E&C Consulting is your source for Coffee Business Success!
Are you thinking about opening a coffee shop, an espresso bar, coffee drive-thru, or perhaps starting some other type of coffee business? E&C (Espresso & Coffee) Consulting can help you develop a plan for success! Our coffee consultants possess years of extensive experience. Our expert coffee consultant can guide you step-by-step through the process of starting your own successful coffee business, by helping with business plan development, pre-opening financial planning (Financial information necessary for Bank Loans), ergonomic store design & layout, menu development & pricing, and employee barista training & assistance with store opening. These are just a few of the many consulting services we offer.
E&C President, and senior coffee consultant, Ed Arvidson, possesses over 3 decades of coffee consulting and foodservice operations experience. He has created, owned, and managed many successful coffee businesses and restaurants. Beyond providing consulting services, Ed also shares his vast knowledge as the instructor for the Coffee Business School of the Cascades. Ed's years of hands-on experience can provide the guidance, and be the source for your coffee business success!
As important as it may seem, there's a lot more involved in building a profitable coffee business than just producing wonderful drinks. Of the vast majority of coffee businesses that open, sadly, few ever realize a profit. This is not due to any lack of viability of the Specialty Coffee Business, but is typically the result of fatal mistakes that were made during business creation, or the owner's inability to control and build the business once it had opened. We can help you determine a viable concept to meet your desires, skill level, and budget, and guide you in the development of that concept from a mere idea, to a successful reality.
If you own an existing coffee shop and are struggling to run the business and achieve profitability, then diagnosing the problems, understanding the solutions, and devising a plan, will all be vital. We can help you with business troubleshooting so your coffee business can achieve, or return to profitability. We will identify your problems, recommend proven solutions, and create a personalized written action plan that will produce concrete results.
In comparison to the typical cost of opening a coffee shop, a modest investment in a few critical coffee consulting services will greatly increase your chances for success. Save time, money, and minimize risk, by working with an experienced coffee consultant as you start a coffee business! To talk to Ed Arvidson about your coffee business ambitions, his coffee consulting services, or how E&C might best help you, please feel free to call or E-mail us: 541.317.0555
edarv1234@gmail.com
Services
Pre Opening Financial Planning
Business Plan Development
Location Selection Assistance
Lease Review & Negotiation Coaching
Ergonomic Store Design
Equipment Sourcing
Menu Development & Pricing
Opening Small Wares Order
Consumable Products Recommendations & Opening Orders
Employee Training & Assistance with Store Opening
Assistance with Management Hiring
Business Troubleshooting
Assistance with Buying or Selling an Existing Coffee Business
Purchasing Consulting Time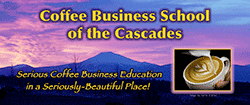 E&C Products



Coffee Drive Thru Plans




Using our plans to build your own, superior coffee drive thru, is the viable, cost-effective alternative to buying a pre fabricated building. Superior ergonomic design will produce a building that is a "cut above" any prefab unit.

How to Get Profitable in the Coffee Business




A 310-page E-Book (PDF download) packed full of useful information. It will help you evaluate your business so you can determine why you aren't making money, and it also provides a concise game plan to help you achieve or maximize your profitability.

Starting a Coffee Drive-Thru Business